Hawaiian Humane Adoptions Center
Our Adoptions team is here to help you find a pet that's a perfect match for your family. The available animals featured at the links above are updated in real-time and change daily.
All pets for adoption receive a full medical examination and the appropriate vaccinations, de-wormer, flea and tick treatment, sterilization surgery and a microchip. Vaccinations vary by species and may include: bordetella, distemper, hepatitis, para influenza, leptospirosis and parvovirus. We also partner with many local veterinary clinics who offer your first visit free of charge.
There is no time limit on how long we'll keep an animal and help them find the right home.
The non-profit adoptions center at Hawaiian Humane helps find homes over 7,000 pets each year. Our adoptions team is well-equipped to help you find the right fit for your home and lifestyle.
Adoption Process
Our Mōʻiliʻili Adoptions Center is open to the public. For the safety of all, masks are required while visiting our campus. Please also remember to maintain a 6 feet social distance between groups. Due to the high volume of guests, we ask that you limit your visit to 30 minutes unless you are in the adoptions queue. To best serve you, please sign in at least 30 minutes before closing (5:30 pm daily) to meet with an adoptions representative.
A photo ID is required at the time of all adoptions.
We recognize that some guests are in a high-risk category. To discuss alternative adoptions options, email adoptionsinfo@hawaiianhumane.org for more information on booking an appointment to meet your needs.
After you have browsed our adoptable pets and are ready to adopt or have identified a pet you want to meet, follow the signage and scan the QR code to join our virtual waitlist. You'll be added to the queue on a first-come, first-served basis to visit with an adoptions representative and meet your new best friend.
If you need further assistance signing in digitally, visit a team member or speak to a volunteer with an iPad. We are happy to help!
Please note that if you wish to conduct a meet-and-greet between your dog and one of our available dogs, due to the high volume of visitors, you may be asked to wait outside our gate with your pet until your time slot in our adoptions queue.
If you need to make an appointment for specific adoption services (such as a meet-and-greet), please CLICK HERE.
All available pets are viewable on our website! Their "location" refers to where they are housed in either our Adoptions Center, or at one of our offsite adoption partners. For pets located at our Mōʻiliʻili campus, please see the below map to guide you–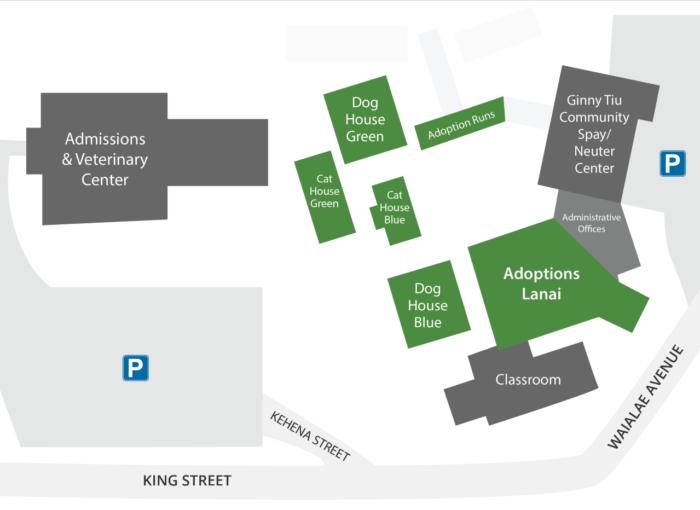 Hawaiian Humane Adoption Center Hours
Daily: 11 am – 6 pm

Adoption Fees
Puppies & Dogs

Puppies under 7 months: $250

Dogs 7 months to 5 years: $100

Dogs 6 years +: $50

Kittens & Cats

Kittens under 7 months: $100

Cats 7 months to 5 years: $50

Cats 6 years +: $25

Small Animals

Mice and rats: $25

Guinea Pigs: $25

Rabbits: $50

Chinchillas: $100

Fishes: $5

Turtles (Chinese and sliders): $25

Exotic Tortoises (Russians, Leopards, etc): $50

Sulcata tortoises: $350

Ducks: $25

Small/Common Birds (pigeons, lovebirds, cockatiels, parakeets, finches, canaries, hens/roosters): $25

Medium-sized Parrots (Conure, Senegal, Ringneck): $150

Large Parrots (Cockatoo, Eclectus, Amazon, Macaw): $350

Pigs: $250

Goats: $250

Turkeys:

$100

Senior Pets

The adoption fee is waived for adopters 55+ if they adopt a dog or cat 6 years or older
Need Directions?
The Hawaiian Humane Society's Adoptions Center is located at the Diamond Head end of our Mōʻiliʻili campus next to our Ginny Tiu Community Spay/Neuter Center. Please refer to the campus map below for our parking and building entrance.